Charitable Activities
Since 1994, the Lithuanian Citizens Society has donated almost $620,000 to worthy charities in Lithuania and the United States. Most of our donations to Lithuanian causes benefit the young, whether they be hospitals, orphanages or schools. We are able to support these causes because of the success of our twice-weekly bingos. Unfortunately, because of a loss of bingo revenue, we are unable to support additional charities at this time.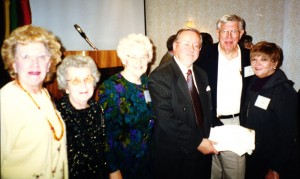 We have donated to the following :
Lithuanian Charities
APPLE – American Professional Partnership for Lithuanian Education
Auksuciai Foundation for Agriculture and Forest Development
Sisters of St. Francis of the Providence of God and their Mission in Lithuania
Draugas, Bridges, Lithuanian Heritage Magazine – Lithuanian Periodicals
Lithuanian Children's Hope
Vaiku Lopselis Darzelis – Kaunas
Lithuanian Catholic Religious Aid
Virsuglio Reabilitacine Klinika
Lithuanian Children's Relief
Baltic Freedom League
Kaunas Kudiku Namai – Kaunas Babies' Home
Lithuanian Orphan Care
U.S. Baltic Foundation
Aid to Lithuania
Lithuanian Human Services Council
St. Casimir's Guild
Lithuanian Mercy Lift
University of Washington – Program in Baltic StudiesUnited States (Local) Charities
Salvation Army
Light of Life Ministries
Western Pennsylvania School for the Blind
Little Sisters of the Poor
Pittsburgh Folk Festival
Bethlehem Haven
Make-A-Wish Foundation
Greater Pittsburgh Community Food Bank
Goodwill Industries of Pittsburgh
March of Dimes and Many More…
We have a strict policy of not making donations to individuals or to institutions for the purpose of benefiting one individual.