The Lithuanian Citizens' Society sponsors a singing group named "BOCIAI"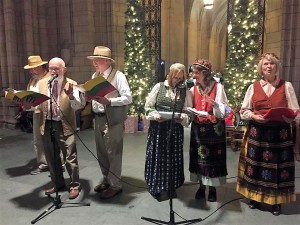 Bočiai means "ancestors" in Lithuanian and the 6-year-old singing group performs both traditional and contemporary selections.  The group performs at special events including Kucios and Lithuanian Independence commemorations.
Bočiai will be singing again as part of Pittsburgh's commemoration of the 100th anniversary of Lithuanian independence. That event will take place on Sunday, Feb. 18, at the Bulgarian Macedonian Club in West Homestead.
The contact for the group is Len Barcousky: 412-766-1499 or by email at lbarcousky@gmail.com
New singers are welcome at any time.