The Lithuanian Citizens' Society sponsors a singing group named "BOCIAI"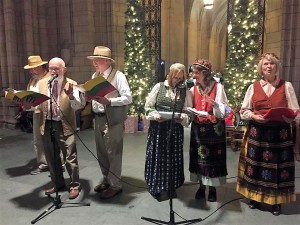 Bočiai means "ancestors" in Lithuanian and the 6-year-old singing group performs both traditional and contemporary selections.  The group performs at special events including Kucios and Lithuanian Independence commemorations.
Bočiai performs from time-to-time at various ethnic events in the Pittsburgh area including Polish-Lithuanian Fest and the December Nationality Room Holiday celebration, both of which take place in the Cathedral of Learning on Pitt's campus.
The contact for the group is Len Barcousky: 412-766-1499 or by email at lbarcousky@gmail.com
New singers are welcome at any time.