Who We Are
The Lithuanian Citizens' Society of Western PA is a Social Welfare Organization, as defined under IRS Code section 501(c)(4). It was founded on July 19, 1912 and is the only surviving Lithuanian club in the immediate Pittsburgh area.  We currently have two locations:
Lithuanian "Country" Club – Jefferson Hills, PA
The Citizens' Society permanent location is now the building and grounds at 904 Coal Valley Rd. in Jefferson Hills, approximately 8 miles southeast of Downtown Pittsburgh and just off of Route 51. This rural "Clean & Green" site features picnic grounds and a wooded area formerly known as the "Lithuanian Country Club." The name has more to do with the location (it's out in the country) rather than any posh facilities or golf course! The club was once an independent entity and boasted several hundred of its own members. In the early 1990s, because of dwindling membership, it merged with the Citizens' Society. Today it is used for member picnics and cultural activities such as our annual Jonines celebration, August pig roast and Oktoberfest meeting. It is also our permanent headquarters after sale of our South Side building.  The property features a rustic barn (supposedly the famous Lithuanian pilots, Darius and Girenas slept there), a small clubhouse, and living quarters for the groundskeeper. There is plenty of grassy open space for activities and you probably can see some deer or wild turkey roaming the grounds most days.
Former Lithuanian Hall – South Side, Pittsburgh, PA (Sold)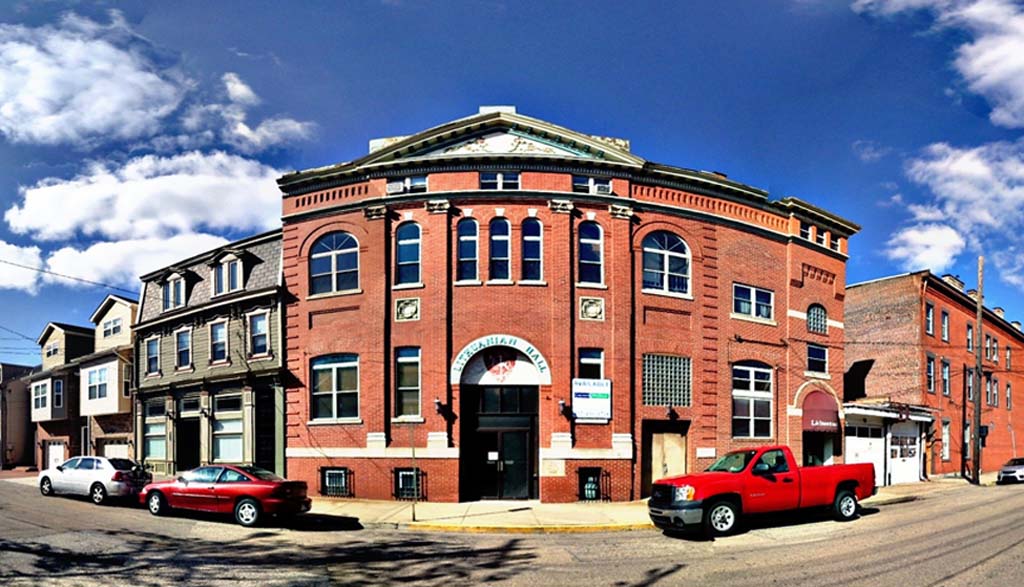 Once the organization's main building and meeting location.  It is located at 1721 Jane St. on the South Side of Pittsburgh, only two short blocks from the many trendy restaurants, bars, clubs and specialty shops on Carson St. The building was originally known as the Turner Building. It was built in 1909 and originally housed a German club. The exterior of the building was renovated in the 1990s. Inside was a bar, a ballroom with a hardwood floor plus a stage. There was another hall downstairs with a kitchen. There was a cultural display of Lithuanian artifacts including wood carvings, dolls in Lithuanian costumes, and various Lithuanian crafts and memorabilia. We hope to resurrect the displays at our Jefferson Hills location where we hope to have language classes during the fall and spring.